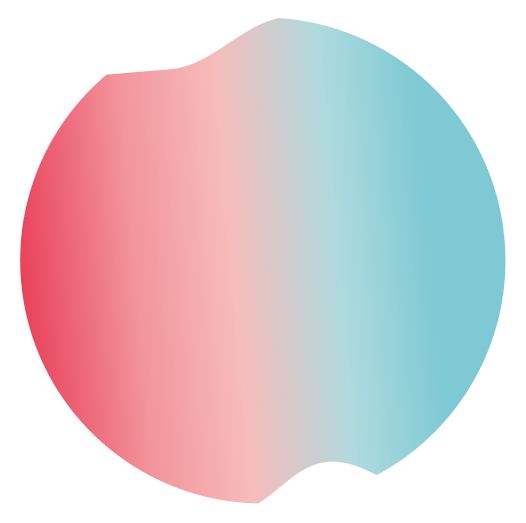 Eczema: creating a barrier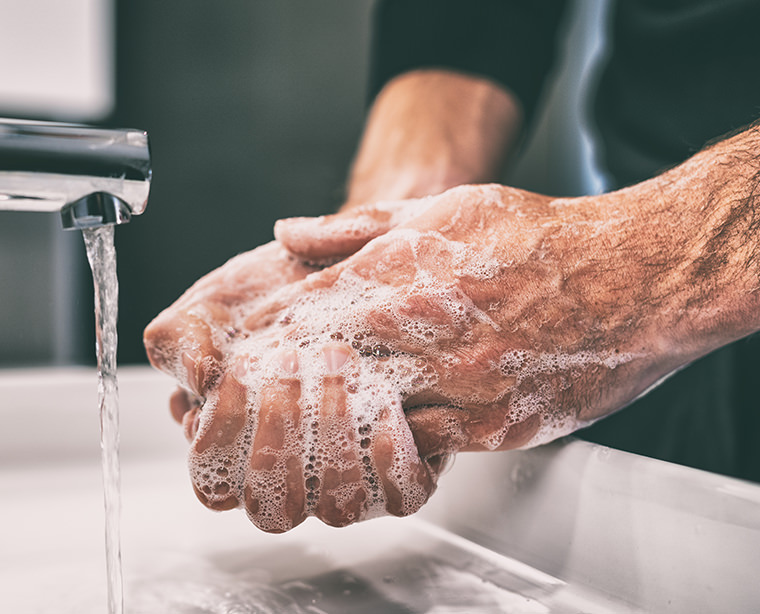 How do you reconcile barriers and protection for hands already damaged by eczema?
Hydroalcoholic gels do not cause eczema to appear on the hands. Their antibacterial action kills microbes on the skin's surface.
However, washing hands excessively with hot water or with soap alters the skin barrier. Soap dissolves the protective fat in the epidermis and thus increases the penetration of external aggressions (allergens, irritants, etc.). In response to these aggressions, the skin over-reacts and presents with red patches.
Hydroalcoholic solutions (more liquid than the gels) cause significantly more irritation than the gels. Gels are thus the preferred option.
"Opt for using hydroalcoholic gels over washing your hands"

You should only wash your hands, or apply a hydroalcoholic gel, when absolutely necessary. For example, there is no need to wash your hands repeatedly at home.
"There is no need to wash your hands more than usual when you're at home".
When you need to wash your hands, it is recommended to use suitable cleansing care, such as a cleansing oil, that rinses off with warm water (as hot water tends to make symptoms worse). To dry your hands, gently dab them with a towel without rubbing.
What do you do when applying a hydroalcoholic gel is like torture?
"Restoring your hands" is essential. This means making them more supple and getting rid of those cracks causing burning sensations.
Two basic products are recommended:
On red patches: apply topical corticosteroids prescribed by your doctor/dermatologist (once daily, usually in the evening)
On dray areas: repair the skin barrier by applying hydrating creams several times a day as needed
Barrier cream sticks are easy to use and take with you on the go, in addition to being effective on cracks.
"Soothe inflammation with a cortisone cream AND keep your skin hydrated to restore its protective film"
What is an effective way to soothe very dry and damaged hands?
"Wet-wrapping" is effective in restoring irritated skin.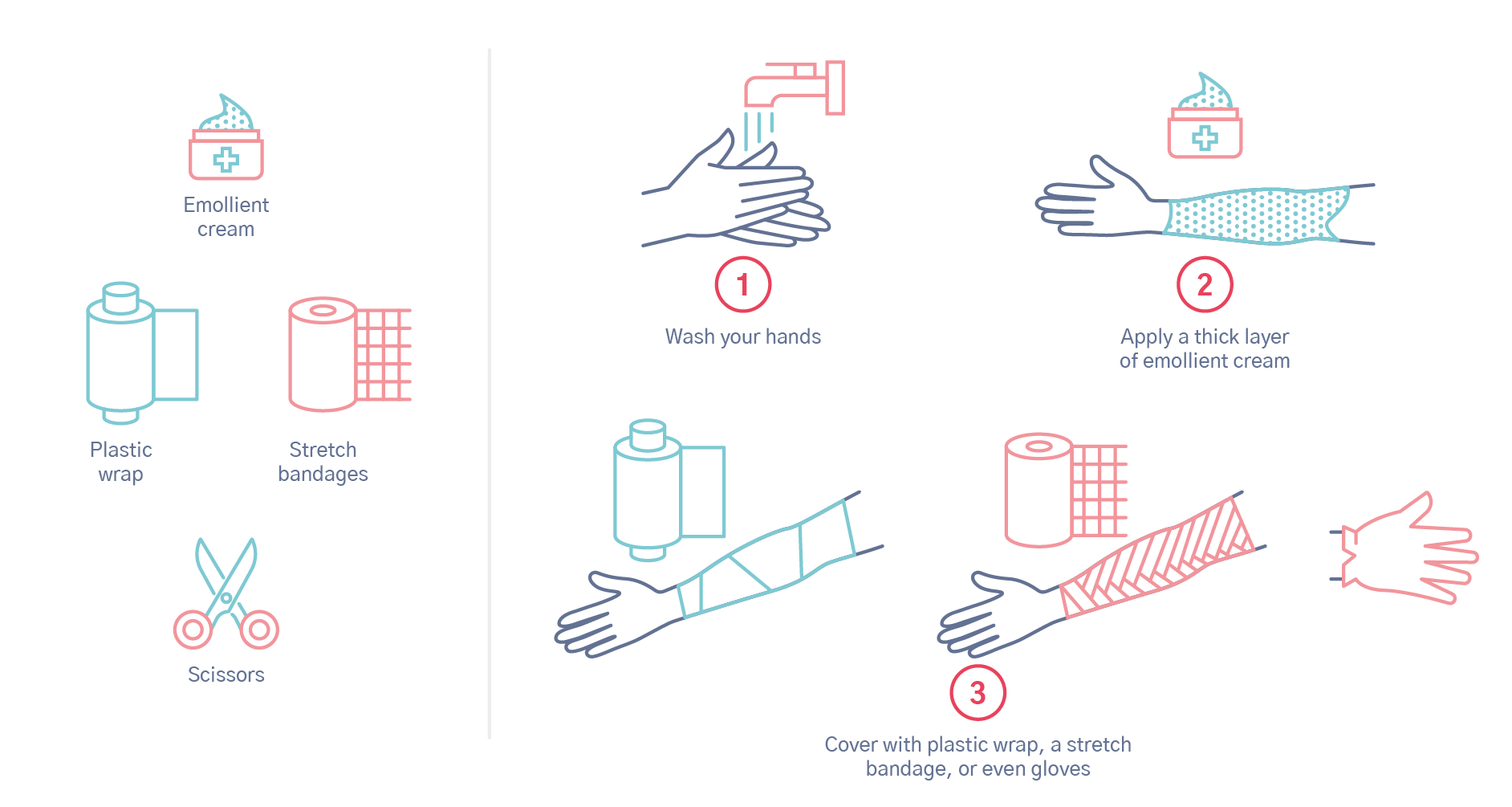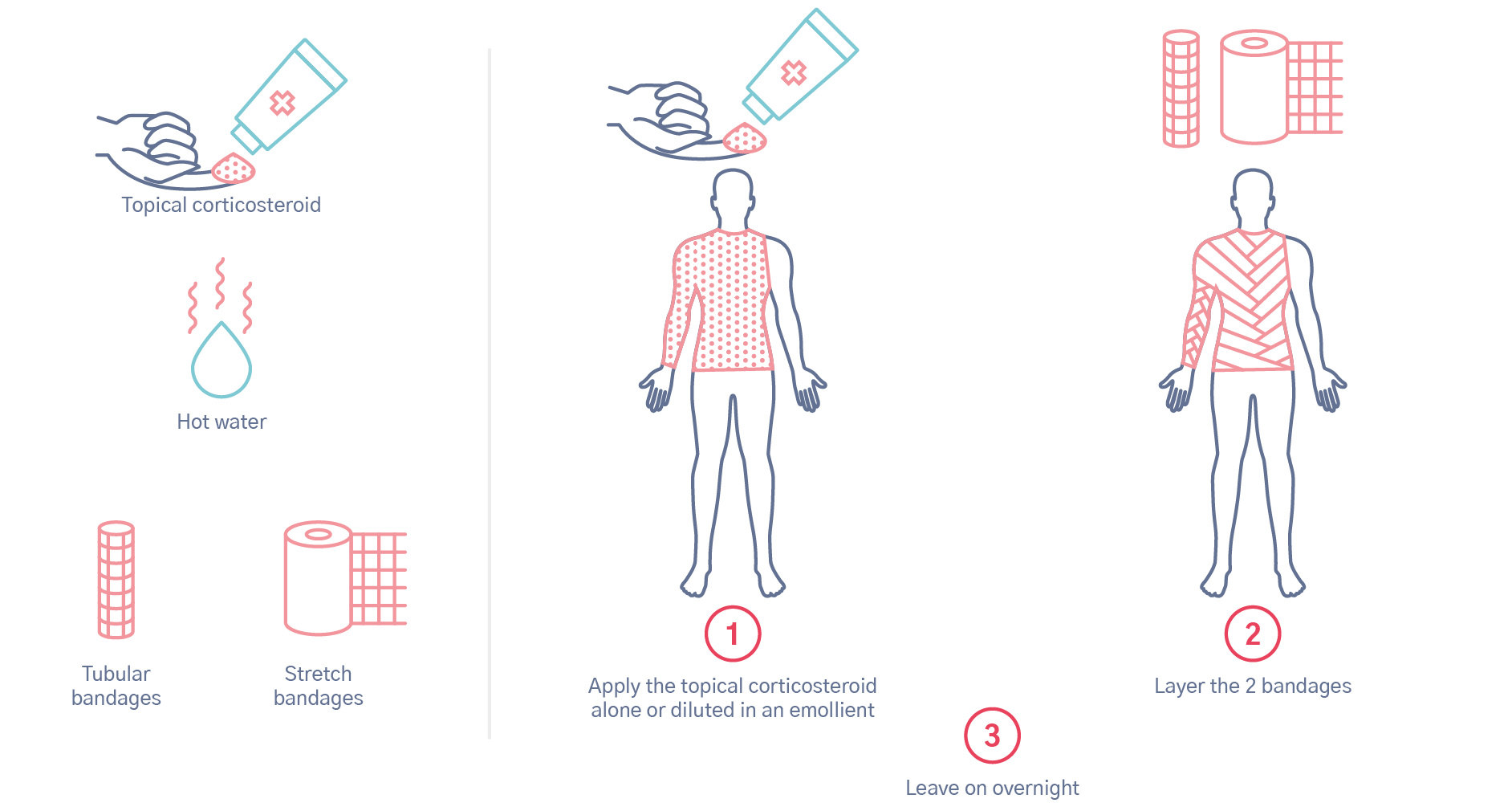 Usually done at night, this method consists of applying a thick layer of hydrating cream over a prolonged period (sometimes mixed with a cortisone cream) on the treatment areas, then wrapping it in a layer of wet tubular mesh (dampened with water), followed by a second layer of dry tubular mesh.
Tubular mesh bandages are available in pharmacies, with some being listed for reimbursement. Be sure to ask your pharmacist for advice.
Another tip to repair cracks: apply a healing cream or lip balm
What is the recommendation with regard to wearing gloves?
Wearing gloves can prevent direct contact with potentially contaminated objects, but they can be especially uncomfortable for people with eczema. Vinyl gloves quickly lead to sweating and must be changed regularly. For hands damaged by eczema, we recommend wearing cotton gloves sold in pharmacies or online. They prevent excess sweating compared to direct contact with the vinyl gloves. They can also be worn underneath vinyl gloves. Plus, you can use hydroalcoholic gels or solutions, as well as wash with soap, when skin is protected by two layers of gloves.
When your hands must come into contact with an unsuitable product:
1 minute: vinyl gloves
5 minutes: cotton gloves underneath the vinyl gloves
20 minutes: cotton gloves changed every 5 to 10 minutes depending on sweat.
"Like with hand washing, wearing gloves is necessary outside the home only".
The elastics on face masks can sometimes irritate the often sensitive area behind the ears. We therefore recommend choosing a mask that fastens at the back of the head, with a safety pin for example.